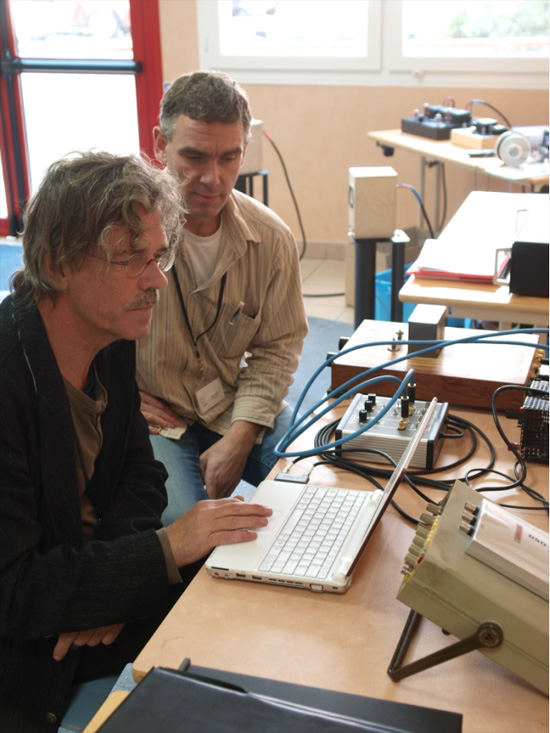 این فستیوال هر ساله در اروپا برگزار میشه و در سه فستیوال اول شهر Aarhus در دانمارک میزبان میهمانان بود. از نگاه من دانمارک یه جورایی کشور اول تو زمینه های فای حساب میشه و نه تنها طراحان خوبی مثل ویتوس و پیتر (طراح آئودیونت) رو داره بلکه خیلی از بلندگوسازان مطرح دنیا بهترین درایورها رو از کمپانی های دانمارکی تهیه میکنند.
تو این فستیوال ها علاقه مندان به DIY لامپی شرکت میکنند و هم مقالات ارائه میشه و هم ساخته های دست اونها (چه بلندگو و چه آمپلی فایر) دمو میشه. البته هر کسی دعوت نمیشه و افراد خاصی امکان شرکت در این فستیوال رو دارند.
ویکی پدیا اینطور نوشته :
Since 2000 each year the "European Triode Festival" (ETF) has been held in various venues in Europe (the first three events were called "Aarhus Triode Festival" aka "ATF". The ETF focuses on do-it-yourself audio valve amplifiers using triode vacuum tubes, and brings together some 100 high end vacuum tube audiophiles from all over the world (from as far away as Finland and New Zealand). At the Festival participants demonstrate their (all home-built) equipment (analogue/digital/amps/speakers/etc.) and discuss all aspects of high-end vacuum tube sound reproduction. It's a private venture of audio lovers; commercial activities are not allowed.
For the first 3 years, the festival was organised by Kurt Steffensen and held in Aarhus, Denmark. During the next 3 years, Christian Rintelen and Wolfgang Braun organised the festival and held it in Langenargen, Germany. In 2006 and 2007 Guido Tent and Emile Sprenger organized the Festival in The Beukenhof, a former monastery in Biezenmortel, The Netherlands. In 2008 Guido teamed up with Arend-Jan Wijtzes and Rob Hubertse to organize the final Dutch edition and in 2009 the festival moved to Stella-Plage, France. During the 4 days of the Festival, several seminars, workshops, shootouts and musical performances are organised.
Previous seminar speakers have included people like Jean Hiraga, Morgan Jones, Lynn Olson, Per Lundahl (Lundahl Transformers), Brian Sowter (Sowter Transformers of England), Steve Bench, Guido Tent (Tentlabs), Allen Wright (VSE), Peter van Willenswaard of Stereophile magazine, Pieter Treurniet (Tribute Transformers) and John Broskie (GlassWare and Tube CAD Journal).
Previous workshops have included subjects such as power supplies (shunt/series/passive/regulated), the sound of distortion, noise and hum, speaker crossovers and digital jitter. Audio gear listening competitions are held for items such as phono stages, full range speakers, single-ended triode amplifiers and output transformers.
ETF's have been reviewed in several magazines, including Revue du Son, MJ, TNT Audio, 6Moons and Prestige Audio Video.
A recurring item with each Festival is a Special Guest that is invited to join the Festival and hold a presentation about a high-end audio subject of their own choice.
رومی هم اینجا مطلبی نوشته ببینید :
I am not sure what it is, how it organized, who runs it and who participate it. My initial feeling that it was a bunch of the folks of DIY-audio-lever come together to drink bear and do not see own women for a weekend, sort of a Brokeback Euro-Mountain  but with tube rectification and fully regulated. Anyhow, I was not there, have no idea what level of sound they accomplish in there and what level of audio was generally presented at ETF2009. I suspect that sound was not too exiting in there – like at most of the show. It does not look that anyone speaks about the ETF sound but they have pictures. Well, it is what it is – audio it becomes a pornographic discipline, not only pornographic with detail description of what camera was used, what was the lens was used and how it was shot.
اشخاصی مانند :
Jean Hiraga, Morgan Jones, Lynn Olson, Per Lundahl (Lundahl Transformers),
Brian Sowther (Sowther Transformers), Steve Bench, Guido Tent (Tentlabs),
Allen Wright (VSE), Peter van Willenswaard (Stereophile),
Pieter Treurniet (Tribute Transformers),
Tim de Paravicini (EAR/YOSHINO) and John Boskie (TubeCAD)
تو این سمینار ها حضور دارند.
من سعی میکنم تک تک این افراد رو معرفی کنم و مقالات جالبی رو که نوشتند براتون تو سایت بیارم اما تا اون موقع بهتره خودتون اسم این افراد رو سرچ کنید و دنبال مطالب سایت اونها رو بگیرید.
لینک های زیر رو هم ببینید، بیم اونها لینک هایی هست که مطالب مفیدی در مورد ساخت دستگاه داره :
http://www.triodefestival.net/index.php?page=etf-2010-photos
http://www.triodefestival.net/index.php?page=more-on-etf
http://www.tubecad.com/2005/December/blog0055.htm
http://greygum.net/sbench/sbench101/
http://www.nutshellhifi.com/library/europe3.html
http://www.dhtrob.com/index_en.shtml
http://www.tnt-audio.com/shows/etf04_e.html
http://www.timebanditaudio.com/ETF08/etf2008.html
http://www.6moons.com/industryfeatures/triode/triode.html
http://www.holgerbarske.com/etf09/album/hb/index.html
http://www.holgerbarske.com/pics/album/ETF%2008%20-%20Impressionen/index.html
http://www.holgerbarske.com/etf09/album/cg/index.html
http://www.audiohagel.dk/index/categories.php?cat_id=28&sessionid=e24e8c7b73c7baadd19e76bc94223889
http://www.timebanditaudio.com/ETF2009/etf2009.html
http://www.german-vintage-loudspeakers.com/navid.670/impressions-of-the-european-triode-festival-2008-3.htm
http://www.6moons.com/industryfeatures/etf06/etf.html
http://www.6moons.com/industryfeatures/etf2010/1.html
http://www.thomas-schick.com/ETF06.htm
آخر هفته خوش بگذره