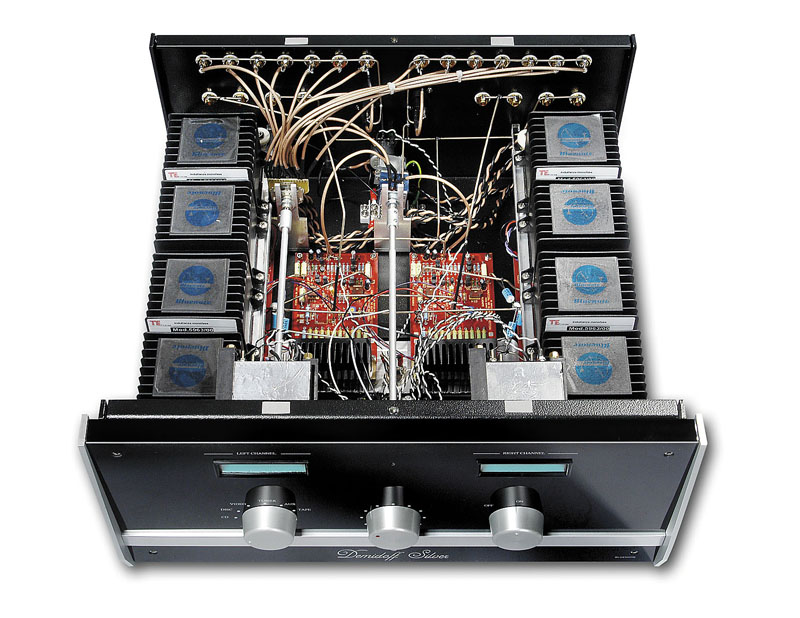 میخواستم این مطلب رو تو انجمن بنویسم چون بنظرم ارزش یک پست تو سایت رو نداشت اما دیدم انجمن پر پر شده و تا درست شدنش زمان لازمه و برای همین این مطلب رو اینجا نوشتم.
یک آمپلی فایر Single Ended Class A ترانزیستوری 50 و 75 واتی که محصول شرکت Goldnote هست. داخل این آمپلی فایر طوری هست که انگار عین AudioNote درست شده و اینطور تو ذهن تداعی میشه که همین آقا پیتر Audionote اونو میسازه.
این شرکت تو رنج قیمتی بین 1000 تا 7000 دلار کار میکنه و به قیمتش صداش می ارزه، چند تا تحلیل رو بخونید :
http://www.positive-feedback.com/Issue36/demidoff.htm
http://www.6moons.com/audioreviews/bluenote/demidoff.html
http://www.avguide.com/review/tested-goldenote-s-1-signature-integrated-amplifier-and-koala-cd-player
The Demidoff Silver Plus is a single ended Multi-Powered transformer stereo integrated amplifier that is handcrafted to ensure the highest performance level.
The Demidoff Silver Plus uses the finest version of the Mirror-Amp™ pre-amp section. Such gain stage is obtained using a proprietary special cascade differential amplifier with a mirror current, ensuring a super-linear signal virtually eliminating distortion. It also deploys a different output design than the other simpler Demidoffs, providing state of the art linearity and improved efficiency.
The power supply is managed by 12 different massive transformers made specifically on custom design. In order to ensure the best sonic performance, there is also an extra dedicated smaller transformer electrically isolated from the other ones that is dedicated to power two separate circuit boards controlling the Vu-Meter fluorescent lights, the motor of the volume control, the internal protection relays and even the power ON led light.
Four custom Golden transformers work as "pure" power energy suppliers while eight are decoupling transformers, mechanically isolated, to filter the DC power entering the preamplifier Mirror-Amp™ section. Such massive inductive power supply guarantees the lowest interferences from AC power.
All the strategic power & audio sections are wired with Rounded Solid Silver bars. The RSS is a 2mm diameter bar made with 92.5% pure silver and 7.5% electrolytic OFC. It provides the very best conductivity available.
The input wires are connected to the customised selector with a 2.5mm silver cable specifically made for this flagship Amplifier.
As per all the Demidoff amplifiers, the Demidoff Silver Plus does not have active nor passive filters on the audio signal. We have designed specific passive thermal switches to turn the amplifier power off completely reaching an internal temperature over 80°Celsius (180°Fahrenheit).
Its chassis is completely made of high mass aluminium to minimize RFI and EMI interference through having a completely non-magnetic paths!
The Demidoff Silver Plus has two high precision Blue Fluorescent Vu-Meters and a remote control for the volume, both powered by a dedicated transformer to avoid any kind of interferences on the signal path that could affect the sound quality.
The Demidoff Silver Plus supports a wide range of inductive and resistance loads so it can be matched with any kind of audio cable, allowing users to employ their favourite wiring combination. The use of customised & the finest electronic components plus a totally new power supply cap section ensure supremely high levels sonic performances.
As all the Demidoff amplifiers the Demidoff Silver Plus is equipped with all custom design connectors.
POWER OUTPUT: 75w+75w @ 20-20.000Hz
THD (Total Harmonic Distortion): 0.2% @ 20Hz – 20KHz
POWER TRANSFORMERS: 4 Audio Power E core customized +8 Decoupling Power supply + 1 controlling Transformers
NOTES: Fluorescent Vu-Meters on power output controlled by a separate transformer – RRS™ (Rectangular Rounded Silver bar) on the audio signal path.
شب جمعه خوش بگذره