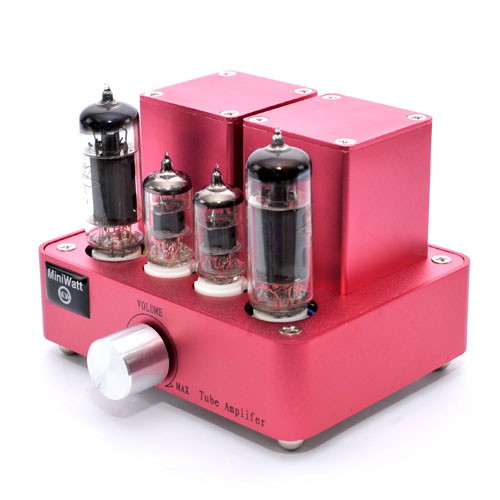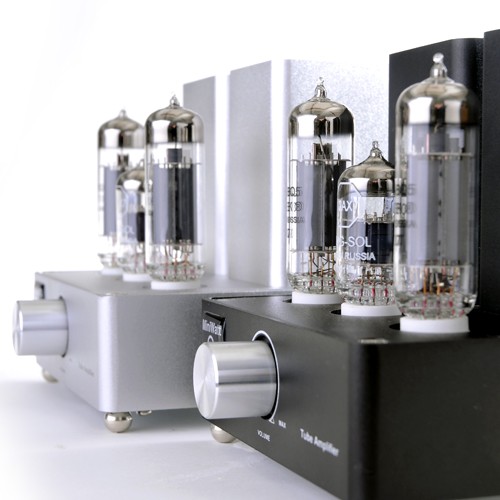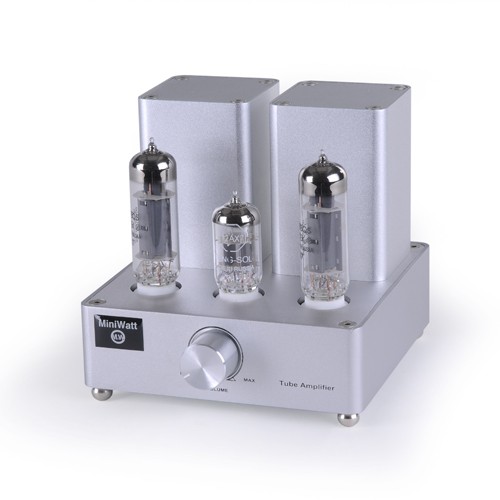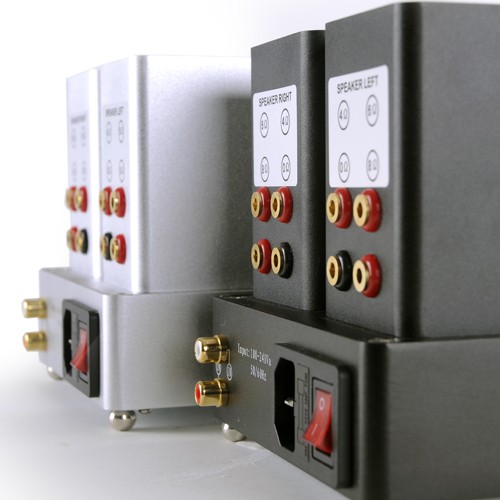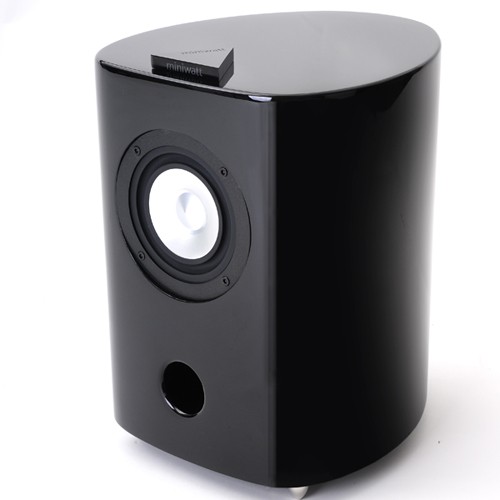 آقای علی فاطمی برند مینی وات (http://www.miniwatt.com.hk/) رو به ایران آوردند. این برند با قیمتی بسیار مناسب (مجموع بلندگو و آمپلی فایر نزدیک به 1000 دلار) هم اکنون در دسترس علاقه مندان قرار دارد. قیمت بلندگو 799 دلار و قیمت آمپلی فایر 378 دلار هست. شماره تماس آقای فاطمی برای اطلاعات بیشتر 09121040303 میباشد.
http://www.6moons.com/audioreviews/miniwatt/miniwatt.html
http://www.6moons.com/audioreviews/synergy2/amp.html
On job, "…we have an R&D team in mainland China and head offices in Hong Kong. This is our 1st tube amp product." Thus solicited, I opted in. I've got a soft spot for tubes. Ditto for contrarious market positioning. Where a 500-watt solid-state behemoth plays lazily to established preconceptions, a MiniWatt attempts to educate. What's required? What can be done when bling, complexity and excessive power are tempered by conservative reason?
شاید بد نباشه از دلالان لامپ تو ایران لامپ نوس بخرید و جایگزین کنید و بعد ببینید صداش چه جوری میشه . البته بعید میدونم با وجود دلالان بزرگ لامپ تو ایران هنوز کسانی باشند که لامپ های نوس رو بین 1000 تا 3000 تومن بفروشند. به هر حال تلاش کنید شاید نتیجه گرفتید 😉
miniwatt N2 – Fullrange Monitor Speaker
Sound comes from a single point, no crossover and a optimized curved-shaped cabinet, miniwatt N3 bring the ideal monitor grade speaker to you.
A direct and optimizing cabinet design, hand-crafted and construction materials (10-layer piano finish) with a 100mm aviation grade aluminium alloy multiform cones fullrange driver, miniwatt N3 delivers a level of musical purity, rich sonic textures, tonal balance and open soundstaging.
$799.00
Cabinet
• Optimized curved-sharp to reduce resonance
• 10-layer glossy black piano finishing
Driver
• 100mm Multiform Cones Fullrange Driver
Specifications
• Frequency Response: 40-25Khz (+-1db)
• Impedance: 4 ohms
• Sensitivity: 88dB @ 1 watt
• Maximum Power: 40 watts
• Dimensions: 130mm (w) x 130mm (d) x 130mm (h)
• Weight: 12kg
Flat Shipping Rate US$80 to all round the world.
Integrated Tube Amplifier – N3
A minimalist integrated amplifier with one pair of RCA inputs and a passive volume control to attenuate the output of its enhanced classical tube circuit comprised of a12AX7 (ECC83) twin triode feeding a single EL84 (6BQ5) per channel, and also with our advanced switching power supply to deliver a 3.5 watts output per channel.
Tubes
• Driver – TungSol 12AX7
• Power – Sovtek EL84 (Matched Pair)
Specifications
• Power Output: 3.5W+3.5W @ 8 ohms
• Frequency Response: 30-40Khz (+-1db)
• Input Sensitivity: 500mV
• Signal-to-Noise Ratio: -80dB / 3.5W
• Residual Noise < 1mVac
• Input AC Voltage: 100-250Vac
• Power Consumption: 38W
• Input Impedance: 50K ohms
• Output Impedance: 8/6/4 ohms (Japan Z11-EI48*24 Output Transformers)
• Dimensions: 130mm (w) x 130mm (d) x 130mm (h)
• Weight: 2.6kg
• Input: RCA Jacks
• Output: Banana Jacks
• AC: Standard IEC Jack with Fuse protection (2A Fuse)
Flat Shipping Rate US$50 to all round the world