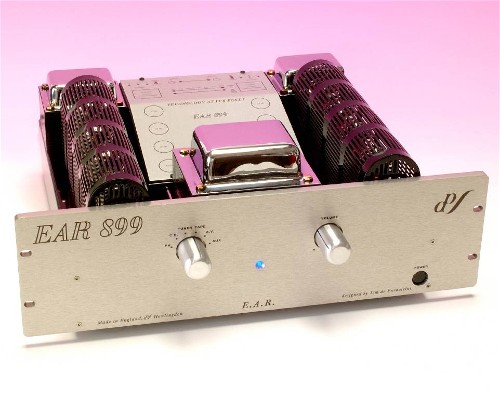 آقای فاطمی نمایندگی محصولات یکی از بهترین طراحان دنیا رو گرفتند، برند EAR Yoshino با طراحی آقای Tim de Paravincini هم اکنون در ایران قابل دسترس هست و علاقه مندان میتونند برای خرید کامپوننت های این برند با آقای علی فاطمی تماس بگیرند.
برند EAR هم محصولات استودیویی میسازه و هم محصولات های فای خانگی و بیشتر آمپلی فایر هاش لامپی بین 30 تا 70 وات هست ، البته 100 وات هم داره و یک مدل ترانزیستوری هم داره که 100 وات رو تو مد سینگل اندد میده که خیلی جالبه.
You use vacuum tubes in many of your designs. Some people have said that tubes have euphonic even-order harmonic distortion. Do you rely on this tube nonlinearity to achieve the sound of your mods, or do you always run the tubes in their linear region?
I do not rely on tube nonlinearity. I don't want a sound in my machines. What comes out must sound the same as what went in.
The "warmth" in a lot of tube electronics is due to their dismal top end, the bad transformers they use, and the loading down of their high-impedance outputs. Because of the output transformer and the feedback used, many tube circuits have a partial bass instability that gives a bloated bass. Any warmth in the tube sound is a defect, but listeners don't want to know that.
I don't have to use tubes in my designs; I only do it for marketing reasons. I've got an exact equivalent in solid state. I can make either type do the same job, and I have no preference. People can't pick which is which. And electrons have no memory of where they've been! The end result is what counts.
Most transistor-circuit architecture was different from tube-circuit architecture, and that's what people were hearing, more than the device itself. The main advantage of tubes is that an average tube has more gain than an average transistor. Second, tubes don't have the enormous storage times of transistors, so they are very fast. Tubes go to 100 MHz without trying.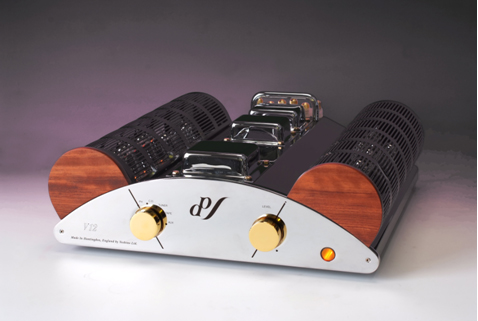 متن پایین در مورد آقای تیم نوشته :
There are very few modern designers in the audio field who can claim as much as de Paravicini. No aspect of the recording and reproduction chain has been left untouched, no aspect of circuit design not further researched and developed.
As early as 1965 Tim was involved in custom design work for rock and roll bands; manufacturing his own public address equipment, and modifying existing studio equipment to realise even greater potential. A move to South Africa from England saw a further development of his own unique design genius, and the launch of his own professional amplifier product, sold simply as "de Paravicini".
While working in South Africa, Tim had a chance meeting with representatives of the Lux Corporation, and in 1972 was invited back to Osaka, Japan, and offered a job as audio designer. Tim soon put together some very interesting designs for Lux, including the remarkable C1000/M6000 pre/power amplifier combination. One of his own favourite designs from this period was the Luxman 3045 tube mono block. At the time, this was the only mono block design available in the audio field, and backed up de Paravicini's preference for locating the power amplifiers close to the loudspeakers. Tim also designed the actual output tube for this amplifier, the 8045 power tube. As always with his designs, the output transformer was a custom de Paravicini design.
In 1976 de Paravicini returned to England, and very quickly made an impact as a design consultant, initially working with the ALBA Radio Corporation, and Tangent Loudspeakers. Tim was also responsible for the later ranges of Michealson and Austin tube amplifiers, including the TVA10 and M200 mono blocks.
Within a year, he had set up Esoteric Audio Research Ltd., and was marketing the remarkable EAR 509 100 watt professional tube mono block power amplifiers. He developed a unique output transformer/tube interface circuit called "balanced bridge mode", in which all the electrodes (except the control grids) have their own separate windings on the thirteen-section, biflar wound, output transformer. In addition, the amplifier has no overall feedback, something of a de Paravicini trade mark. Technically this amplifier proved that tubes are capable of performing equally as well as transistors in a laboratory, with a specification that included a power bandwidth of 9-85,000 Hz, -3dB, and also proved that tubes are capable of better things than the "retro" sound some manufacturers look for. Subjectively the 509 amplifiers were a big hit. Although aimed at the professional market, several Hi-Fi magazines picked up on the 509'ss, and compared them to the then State of the Art domestic High End equipment. The fact the 509 beat all of the competition at the time helps explain why the 509 is still in production today. the 509 was designed by de Paravicini to have no sound; trying to sum up the 509 is hard, it does not offer the warm 'comfortable' tonal quality which so often mark most tube amplifiers out. They are remarkably clear, transparent, with firm realistic bass, effortless top end, detailed and very alive.
In the twenty years since 1976, Tim has designed a mammoth catalogue of Hi-Fi and Studio components, both for Esoteric Audio Research and for other domestic audio companies. Currently the 'E.A.R.@ professional product range includes a tube capacitor microphone, built with a rectangular gold spluttered capsule. A design which easily betters the classic European designs. Tube microphone preamplifiers, tube equalisers, record cutting systems, analogue to digital converters (for CD mastering) plus custom components and servicing for some of the Worlds most famous recording artists. His is most famous in the studio industry for the stunning analogue tube master tape recorders. These units have very special custom designed heads, and are capable of digital levels of signal to noise ratio, with a bandwidth in excess of 8Hz to 80,000Hz!
Work for the recording industry has brought critical acclaim. On the 'Waterlily' label, "A Meeting by the River" received a prestigious 'Grammy' award for its sound quality. This was a mid/side technique recording using a pair of crossed microphones. Waterlily's microphones, preamplifiers, analogue master recorder and A/D converter were all built and designed by Tim.
In 1985, de Paravicini introduced his new record cutting system. Now installed at 'The Exchange' in the heart of London, (originally Island Records 'Sound Clinic' facility). This is phase corrected, and uses in excess of 1,000 watts of tube audio power, based on the classic EAR 509 circuit. The cutter head is again, a custom design, and is capable of cutting deeper, wider grooves than any other system. The result is higher dynamics, with a true signal to noise ratio in excess of 65 dB from records pressed off a master cut on this system. It is truly as close to the original master tape as it is physically possible to get.
Throughout the past twenty years, Tim has worked with many different manufacturers. For London based Musical Fidelity, Tim designed the amazing A1, taking the concept of a cut down 'High End' audiophile amplifier, the only compromise being the 10 watts output, albeit pure class 'A'. Other products designed for 'M.F.' include the A470/370, P270, Digilog, CD-T, etc.
More recently in Europe, the 'Tube Scene' in domestic audio has really taken off. A lot of European manufacturers have stolen both older European designs, and designs from Japanese magazines and journals. Most of these amplifiers are very poor sounding, and terribly unreliable. These manufacturers neither understand the designs or how to build them. They use the reputation of tubes to sell their poor, none original product. De Paravicini's answer to these companies, was the award winning EAR 859 amplifier. His all new Enhanced Triode Mode circuit bettering the performance of directly heated triodes designs. It provided the public with a real design, from a professional maker.
The EAR 834P phono stage was also introduced, and similar to the '859 has proved very popular, offering un-rivalled performance per dollar. The particular speciality being the stunning Moving Coil stage transformers – transformer design being one of Tim de Paravicini's fortes – unlike most manufacturers, who just buy in 'off-the-peg' transformer designs or just specify the most basic requirement to an outside supplier.
All EAR amplifiers are truly original, including the custom transformer, metal work, circuit printed cicuit board. All the work of Tim de Paravicini.
Tim de Paravicini works by a simple premises: If he designs it, it must be a better design than anything else, or he will not manufacture it. His sole goal is taking audio to the furthest possible point of development. Current research is taking him further along this path than any single competitor.
در ضمن آقای Tim برندهای Jorma Design ، Marten Design و TownShend رو در امریکا دمو میکنند و تو اکثر نمایشگاه ها با همین دو برند جورما و مارتن حاضر میشوند.