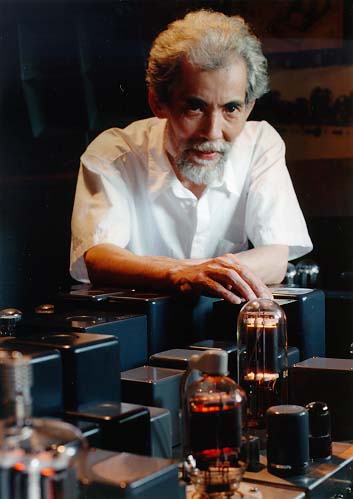 آقای Sakuma san یکی از کسانی است که در ژاپن در زمینه صدا البته بر مبنای حس شنیداری و نه پاسخ مدار زیر اسیلوسکوپ فعالیت داره.
http://www10.big.or.jp/~dh/index.html#koko1
ایشون در ساخت آمپ از ترانس های TAMURA استفاده میکنند. برند ژاپنی Tamura از هسته amorphous (ویکی توضیح داده) بجای نیکل یا سیلیکون استفاده میکنه. یادتونه van den hul و Stealth سعی در استفاده از چیزی غیر از مس مانند کربن یا همین amorphous metal داشتند برای پاسخ بهتر در طراحی کابل.
اینجا رو بخونید :
http://www.6moons.com/industryfeatures/transformers/transformers.html
http://www.6moons.com/industryfeatures/metal/metal.html
یک تاریخچه جالب از ترانس های آئودیو اینجاست :
http://www.sowter.co.uk/pdf/GAVS.pdf
ساکوما اینطور در مورد ترانس توضیح داده :
Let me explain about amorphous cores. There are three kinds of audio transformers: Si-Fe type, Ni-Fe (permalloy), and amorphous. Amorphous is composed of Fe-Ni or Fe-Co, but it is not an alloy. It has no regular crystals of metal. Physically, it is like glass and quite brittle but Tamura got around this with special manufacturing technology. The other challenge that Tamura had to overcome was that amorphous material saturates even more easily than permalloy or pure nickel, so here again special techinques were employed.
I find the amorphous core to be excellent throughout the frequency range, however, its extremely clear sound requires color and power elsewhere in the amplifier. Some builders who tried amorphous cores say the low frequencies are weak. My answer is simple- their grief comes not from the amorphous core but the poor quality of the parts used elsewhere in the ampIifier.
The output transformer's core is also made of amorphous strip material. It has two secondary windings for separate outputs for drivers and woofer, to bring out the powerful and clear sound of the Altec speaker system.
ساکوما از بلندگوهای Altec و Lowther برای ساخت آمپ شون استفاده کردند هرچند نوشتند چند سال طول کشید تا از Lowther صدای خوبی دربیارند.
به مونو گوش میدهند و نه استریو و مثل رومی برای هر درایور بلندگو یک آمپ قرار دادند برخلاف بقیه که یک آمپ رو برای تمام درایور ها با کراس آور بکار میبرند.
خیلی مورد انتقاد و سرزنش دیگران بودند اما ایشون فقط و فقط به حس شنیداریشون اتکا کردند برای ساخت و نه به حرف های دیگرانی که از دیدگاه Objective ایشون رو مورد انتقاد قرار میدادند.
http://www10.big.or.jp/~dh/sakuma/index.html
Sakuma san was born in 1943.
After making many amplifiers, he noticed that the amplifier conforming to electronic theory does not always satisfy our emotional sense.
He decided to build his system by his emotion, not theory.
His many original ideas have resulted in an unusual monophonic system.
Sakuma amplifiers are especially unusual.
He didn't care about slander against himself, but he was concerned for the feelings of Sakuma amplifier users.
The one way to prove their correctness, was by giving audio concert demonstrations.
During some two scores of years, there have been presented innumerable domestic audio concerts, as well as those in Milan and Paris, using amplifiers of his own production and other audio instruments of his choice.
More than 4,000 people have listened to music played through his system with great enjoyment. Newspapers and magazines welcomed his performances.
Experiencing his sound, both music fans and the media agreed that reproduced music can be also a form of ART that has beauty and communicates as much emotion as "real" music.
Today more than 200 audiophiles visit Sakuma each year to seek truth in the words "Farewell to theory".
In 1980 Direct Heating was incorporated.
Our activities include publishing "Direct Heating" magazine, giving audio concerts and other beneficial steps to bring audio into the fine arts.
In 1989 Sakuma san published "The Remembrance of Sound Past".
Both 1st and 2nd edition are out of print, and he is writing a new book.
در ادامه بخوانید در مورد آمپلی فایری که ایشون ساخته :
What is the Sakuma Amplifier?
Introduction
SAKUMA amplifiers have caused controversy among many Japanese audiophiles.
Some say "The Sakuma amplifier is the finest for music listening "; while others say "Judging by his circuit design, Sakuma must not understand audio electronics. His amplifier may destroy speakers".
To avoid misunderstanding, To be honest, I admit that most Japanese audiophiles are in the the latter group.
History
It is 20 years ago.
Sakuma often listened to Be-Bop jazz.
He especially liked to listen to piano played by Bud Powell.
Sakuma had tried many speaker systems: Western Electric, JBL and other famous products. Indeed, their sound is better than most. But these speakers did not completely satisfy him.
One day he bought a Lowther speaker PM6 driver unit.
The looks of it …so bad! The sound of it too bad !!
And although it seems strange, he chose this Lowther.
He said " In the tone of Lowther, I find something I have needed for a long time.
I did not hear this.
I felt it."
When first his amplifier drove the Lowther, the tone of PM6 unit was too thin.
He began day by day to create an amplifier suitable for the Lowther .
After five unsatisfied years, he mounted an interstage transformer.
Although interstage transformers were considered no good for sound, the amplifier now brought a beautiful mid-range from the Lowther.
Sakuma says "I opened the reference books every day. And then, that old interstage transformer asked me:
'Sakuma, who do you build this amplifier for?
Do you make the amplifier to get praise from electronics teachers?'
Since that day, I have made amplifiers for my own pleasure as an amateur".
He has already abandoned NFB, D/C heating of the final tube's filament, and SRPP.
He changed from capacitor coupling to transformer coupling.
Sakuma says "Many Japanese audiophiles use high power amplifiers to get powerful mid-range and bass. But excellent speakers, like the Lowther and Altec, refuse brute power.
The most important goal is not 'Power', but 'Energy' and 'Frame of tone'.
The only way to get Energy and Frame is to mount the many transformers, although I can't tell you a scientific reason for this".
Sakuma says "It is easy to build from a reference book or from MJ.
But we can not make the amplifier better that way. When I make an amplifier, I listen and listen to music so as to find 'what I need' in my imagination.
Once I find It, the amplifier design is very easy".
The title of his book and the name of his audio concerts is "Rememberance of Sound Past".
This is not to say that we wish to listen old sounds like a music box.
When we listen to an audio system, there is first, our own emotion.
It is the start of audio life. But after hearing many audio systems and reading other's audio reports, we may lose our own emotion.
"Rememberance of Sound Past" is the memory of our first emotions brought forth by music and audio.
به یکی از جمله های این طراح که خیلی هم مورد سرزنش و انتقاد دیگران بوده توجه کنید :
Sakuma says "The tube manual is quite like a telephone book. The number of it perfect. It is useful to make it possible to speak with a girl. But we can't see her beautiful face from the telephone number.
To get the best sound from the tube, even if the proper match is 5K, we try 7K. And we try these mismatched values with input transformers and other parts.
When you get your own best operating point of the tube, you get her address.
این متن رو حتما بخونید :
آدرس عکش شماتیک مدارش http://www10.big.or.jp/~dh/sp/kairo.gif هست.
Certain "unusual" aspects in my schematics present mysterious contradictions and may raise doubts in some minds. You may say this is not a volume control but rather a tone control because it interacts with my intentionally mismatched input transformer.
But who has such doubts among those who have attended my audio concerts in Japan and Europe?
I understand that your doubts are grounded in accepted theory. I know this because I had to work through the barriers of convention myself. Now I assert that theory in electronics reference books took my favorite music from my life for a long time.
I think an amplifier builder should consult with himself and his amplifier before asking the reference books and authorities.
It is only after much cut-and-try that I find my best matching point for audio. The tube manual is like a telephone book. It gives perfect numbers. It is useful to make it possible to speak with a girl- but we cannot see her beautiful face from the mere telephone number.
To get the best sound from a tube, even if the proper match is 5K, we will try 7K. And we try these "mismatched" values with input transformers and other parts.
A few days ago, my friend, an experienced craftsman, painted the chassis in dark brown. I begged Kuniko, my wife, to cover the chassis with a soft cloth so the fresh paint won't be damaged.
I want to mount the parts soon but this big chassis, 65cm wide and 35cm deep, absorbs all the power from my body and heart.
For five days I have worked and listened to music, watching the chassis in repose on a round table. I keep the chassis like a wine. This is the most important technique of my craft.
There are two key matters in building amplifiers and audio systems.
One is to recognize the value of family and one's many friendships.
The other is inducing cooperation between human and machine.
After many hours of listening to music together, the chassis seems to recognize "who I am." It turns from mere sheet metal into the chassis for my amplifiers. I can then imagine the perfectly built amplifier. This moment is the end of my design, my planning, and yesterday's me. Now I must play my self ad lib.
It is easy to build from a reference book or from a magazine. But we cannot make the amplifier better that way. When I make an amplifier, I Iisten and listen to music so as to find 'what I need' in my imagination. Once I find that, the amplifier design and building are very easy. I take a screwdriver and mount all transformers and other parts in about one hour.
ادامه لینک ها و نظر رومی درباره ساکوما :
http://www.blackdahlia.com/tipindex/Tip__9/tip__9.html
http://www.goodsoundclub.com/Forums/ShowPost.aspx?PageIndex=2&postID=9150