من بروشور جدید ویتوس رو از خود ویتوس گرفتم و گذاشتم تو آدرس زیر که اگر خواستید دانلودش کنید:
http://rapidshare.com/files/397114941/VA_Brochure_2010.pdf.html
لیست قیمت ها رو ببینید :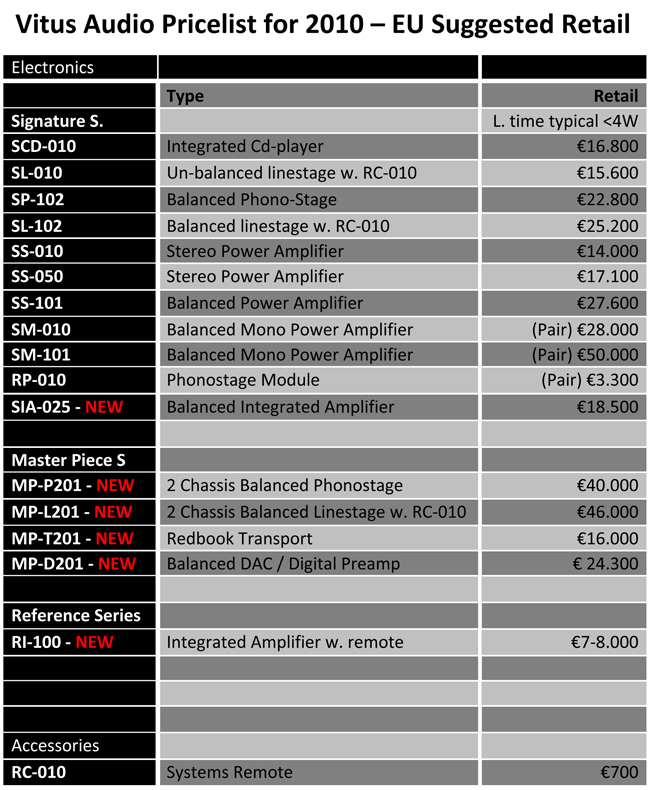 دو سری دیگه بالاتر از سری ای که تو ایران اومده داره اضافه میشه، البته بالاترین سری یعنی Design Studio فقط به سفارش ساخته میشه.
THE BEST RELATIONSHIPS IN THE WORLD WORK IN TRUE HARMONY, TRUE BALANCE AND OF COURSE – TRUE LOVE.
These relationships apply to all aspects of our daily lives and help us to be the very best that we can be – in all that we do.
The stronger the relationship, the more exceptional and rewarding the results. Without a doubt I am very proud to say that Vitus  Audio is a fine example of this philosophy.
In essence, at Vitus Audio we are a family of incredibly talented individuals and passionate music lovers, who share the same common goal – to bring you closer to your music. In order to do this we look at the relationships between everything we do. How will one selected part work with another, what happens if we add more than one, how does the chassis effect the delicate signal, what happens if we twist a cable and so on.
After a long exhaustive, but interesting process, we create something that is far greater than the sum of its parts. Each part on it's own is the best of its type, but bring them together and you have at the very heart of each Vitus product, a finely tuned 'emotion engine'.
Our products form a tightly knit collection of specialist Hi-Fi components designed for your living space, which include: Integrated Amplifiers, Linestages, Phonostages,
Power Amplifiers, CD Players and Cables. Each will bring you closer to your music and give you a lifetime of listening pleasure.
Every Vitus Audio piece is designed and handmade in Denmark by craftsmen who don't compromise because…
we believe that when it comes to listening to music, you should not compromise either.
The proof of course is always in the listening, so we suggest that you contact your nearest Distributor to arrange a demonstration at your local specialist Hi-Fi Dealer. Full Distributor/Dealer details can be found at: www.vitusaudio.com.
Don't forget to take along not just a selection of your favourite CD's/Vinyl, but also some you haven't listened to recently. Why? Let's just say you'll understand the moment you start listening with a Vitus product or system.
Welcome to our family.
Hans-Ole Vitus, founder and President.
UI-CORE TRANSFORMER
Most manufacturers continue to use the popular toroidal transformer as they are relatively cheap and compact in size. After extensively testing many types of transformer technologies ourselves including toroidal, it was obvious that we needed
to go in a different direction. The only solution for us was to design our own UI-core transformer and after four years of development, we have done just that. Remember that a transformer is a key component and the UI-core transformer in our products is exceptional! While incredibly expensive, large and very heavy, our UI-core transformer brings increased stability to the
soundstage, stronger, deeper dynamics and firmer control of demanding loudspeakers. We prove that power output tells only half the story…
think quality and not quantity!
TOPOLOGY
For the small signal stages we use ultra linear, low noise bipolar transistors paired with high precision resistors. For large signal stages we use the best possible linear transistors. We use absolutely no global feedback and have spent many hours optimising PCB layout ensuring tracks are routed in the best possible way for exceptional speed and bandwidth.
MEASURE
Sophisticated measuring equipment is used throughout the whole design process, which helps us reach a certain point. However
to complete the journey, we use the best measurement tool known to man – human ears! Field tests have a huge impact on the final results.
However instead of inviting the test panel to our demo room for a short period of time, we demo our products in their rooms, on their equipment –leaving the products for a longer period of time.
This ensures real value in the feedback we get on our products performance.
EMOTION ENGINE
Vitus Audio products are created for the music and not for a price point. Many of the components used in our products are custom
designed and made exclusively for Vitus Audio.
Why?
The answer is a simple one… because most of today's components do not meet the strict engineering tolerances that we demand inorder to deliver the highest standards of music performance.
We don't compromise and we do not believe that music lovers should either…
FIT
As with the electronics, our mechanical design leaves nothing to chance as we use no magnetic material for our chassis and
only pure aluminium/stainless steel. We also choose our partners very carefully, seeking only specialists in their respected fields. Every single part goes through a rigorous quality control process after each stage in production. We even hand carry all parts between the different manufactures to avoid any form of damage during transportation. With our final rigorous quality control process, only the parts that actually make it through this extreme process are assembled (all in-house) to create a product
that will stand the test of time.
QUALITY
Before any product leaves our factory, it undergoes a thorough testing period of approximately one week. During this period we
take all the circuitry to its absolute limits, in both temperature, signal conditioning and supply rails.
When this full week of stressing the electronics is completed – we leave the product operating for another week – securing optimal performance in sound – and functionality of the test circuitry.
CARE
Every Vitus Audio piece is carefully packed in protective foam, which is then housed in substantial packaging suitable for transport. Our larger/heavier products even have a dedicated wooden crate, which has been built specially for that product.
No matter where in the world you are, you can be sure that your Vitus Audio product will arrive to you safely.
FINISH
Vitus Audio products are as visually beautiful as the music they make. A contemporary design that will complement any room perfectly.
Simple, clean lines create a timeless piece of craftsmanship. The understated elegance of every Vitus piece draws the listener even deeper into their music and pride of ownership comes as standard.
Standard colours are Black, Grey and Bright, while other colours are available at additional cost.
COLOUR OPTIONS
Bright, Grey, Black
Bronze, Bespoke