فکر میکنم تفاوت من با دیگر دوستان به این برمیگرده آئودیو هنوز برای اونها جذابه و برای من نیست.
دلایلش برای خودم نامشخصه اما هیچ علاقه ای در من بیش از یک دوره طول نکشیده.
ببخشید اگه به اینجا سر میزنید و نوشته ای نمیبینید ،
گاهی مهندس و گاهی دیگر دوستان رو میبینم ، یک گپ دوستانه که فقط به های فای برنمیگرده.
لینک زیر از استریوفایل هست ، میدونید که من عاشق این آلبومشم:
doctor doctor what is wrong with me … (Link)
گزارش اینجاست:
http://www.stereophile.com/content/roger-waters-51-0
On Saturday, April 12, John Atkinson and I fought our way through toll plazas, endless New Jersey traffic (is there any other kind?) and one really annoying traffic jam (but hey, it was only one!) to go to a listening session in McAlpin Hall in the Woolworth Building on the campus of Princeton University, that was part of an interdisciplinary conference, Pink Floyd: Sight, Sound, and Structure.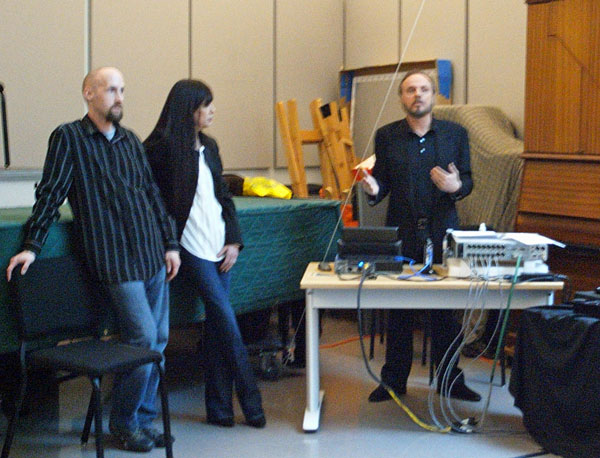 There we heard longtime Floyd engineer James Guthrie (above, right) play the 5.1 surround mix of Roger Waters' Amused To Death followed by the playing, on the same custom surround setup using ATC speakers, of the previously released surround mixes, of Dark Side of the Moon and Wish You Were Here.
Touching in an ungentle way on war, capitalism and God, Amused will never be easy listening. And the fact that the room was not ideal and the volume was entirely too loud (my ears were ringing afterward) took some of the luster off Guthrie's meticulous mixes. Still, by panning the crickets, the voice of a Royal Fusilier and the other samples that Waters used in tunes like "Ballad of Bill Hubbard," and "What God Wants (Pts 1, 2 and 3)" around and behind the audience, made listening a much different experience than hearing the usual two-channel mixes. Better? That's a decision left to everyone's own ears and sensibilities. Certain bits, the money and the cash register noises in "Money" for example, seem to particularly lend themselves better to surround panning than just music.
Chad Kassem of Acoustic Sounds (left) arranged the Princeton playback system, based on five massive ATC powered monitors. Chad, helped by SACD mastering engineer Gus Skinas, also did his best to damp the music auditorium's lively acoustic with mats on the floor and blankets hanging from the ceiling.
These new mixes will be released sometime in 2014—the date is not fixed—will be available as high-resolution downloads via Chad Kassem's Acoustic Sounds website and in a CD/DVD package via Sony Legacy. See Michael Fremer's report for more details.
Stereophile senior editor and analogplanet.com editor Michael Fremer (seen above with Chad Kassem), Sound & Vision editor–in–chief Rob Sabin, Sound & Vision contributor Mike Mettler, video blogger Peter Breuninger, and Andrew Quint of The Absolute Sound also made the trip to Princeton where the over–entitled music composition majors running the show needed to seriously chill out. Either that or allow those Ivy Leaguers with actual people skills to run the events. I seriously doubt, as we were informed, that having a tin of cookies in the room where we listened, would draw rats! And even if it did, the lack of any street signs on campus or in the town of Princeton would keep any big city rats so befuddled that they'd never find any tiny butter shortcakes to nibble on anyway!!!
Robert Baird mentioned how loud the playback was. Here's a screen capture of the Studio Six S spl meter on my iPhone. The peak of 108.4dBC occurred during the airplane panning from rear to front, while the music generally cruised close to 100dBC at my row 3 center seat.—John Atkinson